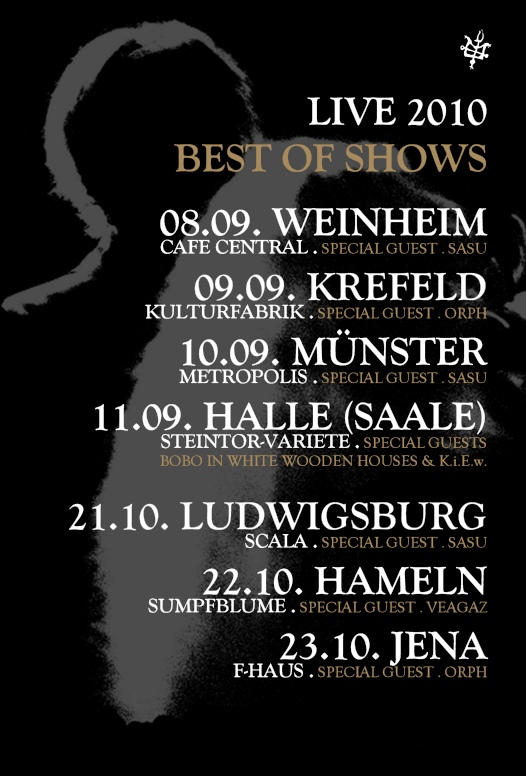 Freunde und Members des Voodooclubs!
Bald ist es soweit … in knapp 3 Wochen finden die ersten Konzerte der Best Of Shows 2010 statt. Bestellt jetzt Eure Tickets für 4 unvergessliche Phillip Boa and the Voodooclub Konzerte im September!
Ihr hattet beim Fan-Voting die Möglichkeit abzustimmen, welche 5 Songs aus dem umfangreichen Repertoire neben Klassikern und Singles es mit auf die Setliste schaffen. Wir verraten an dieser Stelle natürlich noch nicht welche Lieder es geschafft haben … nur soviel, es sind Stücke darunter die Jahre nicht auf der Setliste standen. Und die ersten Proben für die Tour hörten sich verdammt großartig an … !
08.09.10 WEINHEIM Cafe Central
+ Special Guest SASU
Tickets » Ticket Online
09.09.10 KREFELD Kulturfabrik
+ Special Guest ORPH
Tickets » Eventim
10.09.10 MÜNSTER Metropolis
+ Special Guest SASU
Tickets » Eventim
11.09.10 HALLE Steintor Variete
+ Special Guests K.i.E.w. & BOBO IN WHITE WOODEN HOUSES
+ DJ sets 13th Monkey & Maik T.
Tickets » Ticket Online
Kommentar schreiben