Setlist:
bells of sweetness
speed
this is michael
annie flies the love-bomber
emma
love on sale
albert is a headbanger
i dedicate my soul to you
sleep a lifetime
and the wind cries mercy
deep in velvet (locust version)
container love
fine art in silver
rome in the rain
and then she kissed her
kill your ideals
Video: Deep In Velvet – Locust Mix
[flv width="320" height="240"]http://www.sunfeel.de/tourblog/wp-content/uploads/video/deepinvelvetlocust.flv[/flv]
Video: And The Wind Cries Mercy
[flv width="320" height="240"]http://www.sunfeel.de/tourblog/wp-content/uploads/video/andthewindcriesmercy.flv[/flv]
Photos:

© Martin Black

© Martin Höhne

© Dirk Kienzler

© Nicolas Bauer
Weitere Bilder vom 26. Dark Dance Treffen gibt es unter
www.dark-dance.de
www.dark-fotos.de
www.art-in-black.de
www.wave-of-darkness.de
www.mep-promotion.de
sowie auf der BOA MySpace Seite unter Fotos.
Es können für Sommer dieses Jahres zwei Live-Termine von Phillip Boa & The Voodooclub vermeldet werden:
Am 28.06. werden Boa und Band beim Dark Dance-Treffen in Lahr, Baden-Württemberg den einzigen Gig in Süddeutschland 2008 spielen. Das Dark Dance Treffen ist Europas größte Indoor-Veranstaltung der schwarzen Szene und präsentiert alle 3 Monate ein neues Highlight. 6 Live Acts und 10 DJs auf 5 Floors (Dark Dance / Electro, Industrial / Noise, Depeche Mode / Electro-Pop, Gothic / Neo-Folk und Mittelalter / Crossover) sorgen für das musikalische Programm. Eingerahmt wird der Event von einer Vielzahl an Specials, die das Dark Dance Treffen zu etwas ganz Besonderem machen.
Die Karten kosten 19 Euro + VVK-Gebühr und sind beim Dark Dance Ticket Service und allen örtlichen Vorverkaufsstellen erhältlich.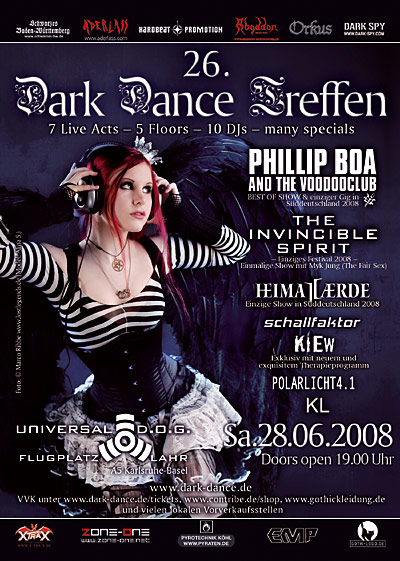 Als Warm Up für die Show in Lahr beim Dark Dance-Festival spielen Phillip Boa & The Voodooclub am 27.06. eine exklusiven Gig im Blow Up-Club in Magdeburg.
Die Kapazität des recht neuen Blow Up-Clubs liegt im Größenbereich der Moritzbastei/Leipzig (ca. 400 Personen). Es ist angeraten, sich Tickets (ca. 22 Euro) im Vorverkauf zu besorgen, dies ist ab sofort über Kartenhaus oder die Blow-Up-Club-Webseite möglich.
An beiden Terminen werden Phillip Boa & The Voodooclub ein Best of-Set spielen.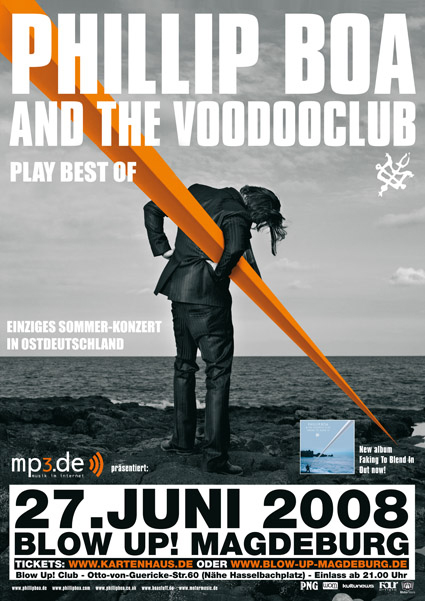 KASTANIENPLATZ-OPEN AIR
Das Festival wurde vom Veranstalter komplett abgesagt!
Weitere Infos siehe phillipboa.de oder meer-events.de

Eine persönliche Stellungsnahme von Phillip Boa findet sich im MySpace Blog.
Das Kastanienplatz Open Air zieht ins "Trockene". Das Festival wird vom Kastanienplatz Rostock in den altbekannten Rostocker Mau-Club verlegt. Die Bands werden das Mau rocken und draussen wird es einen Bereich zum Chillen und Grillen geben. Wann: 24.08.2007 & 25.08.2007
Wo: Rostock, Mau-Club
VVK: alle bekannten CTS-Vorverkaufskassen, Pressezentrum Rostock und kartenhaus.de
Einlass: jeweils 14:00 Uhr
Beginn: jeweils 16:00 Uhr
Line-up am Freitag, 24.08.2007:
Olli Schulz & der Hund Marie
Klee
Nouvelle Vague
Madsen
Phillip Boa & the Voodooclub
Tocotronic
After Show am Freitag, 24.08.2007:
Indie Night mit Indiepapst
Trossekult Open Air, Rheine-Mesum
02.09.2006
Annie flies the love bomber
Decadence & isolation
Fine art in silver
Albert is a headbanger
Der Himmel
I dedicate my soul to you
Skull
Femme fatale
Love on sale
Have you ever been afraid
2 white moths & a black cat
Atlantic Claire
This is Michael
Bells of sweetness
Burn all the flags
———————
Rome in the rain
So what
And then she kissed her
———————
Container love
Kill your ideals
Fotos by C. Grebler © gothmund.de
Populario Festival Nardt/Hoyerswerda
19.08.2006
Decadence & isolation
Annie flies the love bomber
Fine art in silver
Albert is a headbanger
Der Himmel
Skull
I dedicate my soul to you
Femme fatale
Love on sale
Have you ever been afraid
This is Michael
2 white moths & a black cat
Bells of sweetness
Atlantic Claire
Burn all the flags
———————
And then she kissed her
Container love
———————
Kill your ideals