Suchergebnisse für 'Setlist'
auf geht's … alles verstaut & eingepackt, cross + cappu gestärkt wird das erste teilstück des tages erstmal alleine in angriff genommen … bis zum treffpunkt mit der merchlady … nach stressreicher anreise und hektischer betriebssamkeit haben wir weinheim errericht – load in, aufbau, soundcheck und auch der merch-stand stand noch rechtzeitig vor dem einlass … auf geht's … euphoria! der voodooclub marschiert und rockt gerade weinheim … die setliste hat es in sich, ich sage mal so … kondition ist diesmal von unschätzbaren vorteil … details spödder, jetzt wird erst mal das cafe central gerockt … stay tuned … m.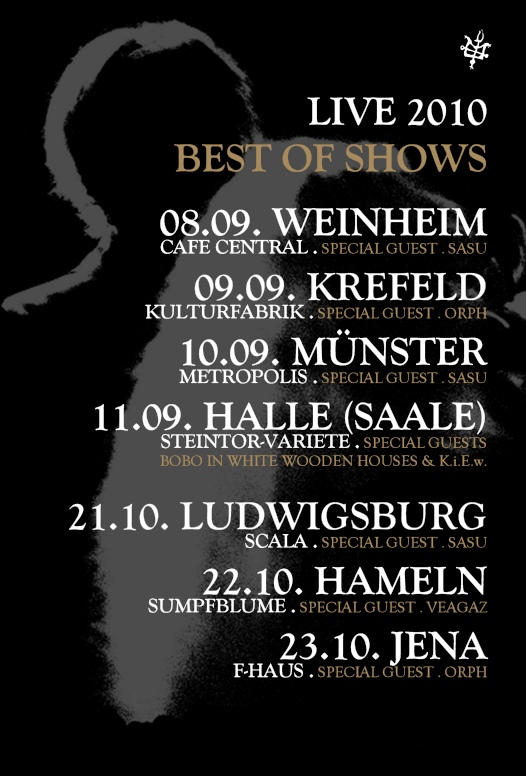 Freunde und Members des Voodooclubs!
Bald ist es soweit … in knapp 3 Wochen finden die ersten Konzerte der Best Of Shows 2010 statt. Bestellt jetzt Eure Tickets für 4 unvergessliche Phillip Boa and the Voodooclub Konzerte im September!
Ihr hattet beim Fan-Voting die Möglichkeit abzustimmen, welche 5 Songs aus dem umfangreichen Repertoire neben Klassikern und Singles es mit auf die Setliste schaffen. Wir verraten an dieser Stelle natürlich noch nicht welche Lieder es geschafft haben … nur soviel, es sind Stücke darunter die Jahre nicht auf der Setliste standen. Und die ersten Proben für die Tour hörten sich verdammt großartig an … !
08.09.10 WEINHEIM Cafe Central
+ Special Guest SASU
Tickets » Ticket Online
09.09.10 KREFELD Kulturfabrik
+ Special Guest ORPH
Tickets » Eventim
10.09.10 MÜNSTER Metropolis
+ Special Guest SASU
Tickets » Eventim
11.09.10 HALLE Steintor Variete
+ Special Guests K.i.E.w. & BOBO IN WHITE WOODEN HOUSES
+ DJ sets 13th Monkey & Maik T.
Tickets » Ticket Online
Support: Me And The White Tiger
Setlist
1. LORD HAVE MERCY WITH THE 1-EYED
2. BELLS OF SWEETNESS
3. BURN ALL THE FLAGS
4. JANE WYMAN
5. ROME IN THE RAIN
6. ATLANTIC CLAIRE
7. IN FREUDIAN UNDERWEAR
8. DIAMONDS FALL
9. SLEEPER
10. THE WORLD HAS BEEN UNFAITHFUL
11. ANNIE FLIES THE LOVE-BOMBER
12. DEEP IN VELVET
13. VALERIAN
14. EUPHORIA
15. FINE ART IN SILVER
16. ALBERT IS A HEADBANGER
17. THIS IS MICHAEL
18. DIANA
—
19. LOVE ON SALE
20. I DEDICATE MY SOUL TO YOU
21. SUNDAY MORNING
22. SO WHAT
23. CHARLAMANE
24. CONTAINER LOVE
25. EUGENE
—
26. AND THEN SHE KISSED HER
27. KILL YOUR IDEALS
Support: Eher Uncool
Moritzbastei: Phillip Boa & The Voodooclub wärmen Veranstaltungstonne auf
Daniel Thalheim / Leipziger Internet Zeitung
http://www.l-iz.de/Kultur/Musik/2009/12/Moritzbastei-Phillip-Boa-The-Voodooclub-w%C3%A4rmen.html

Foto Daniel Thalheim / Leipziger Internet Zeitung
Verrocktes Ritual – Phillip Boa lässt seine Fans in der Moritzbastei tanzen
Konzertreview Michael Wallies / LVZ-Online
http://nachrichten.lvz-online.de/kultur/topthema_kultur/verrocktes-ritual–phillip-boa_laesst-seine-fans-in-der-moritzbastei-tanzen/r-topthema_kultur-a-6963.html

Foto Kempner / LVZ-Online
Setlist
1. LORD HAVE MERCY WITH THE 1-EYED
2. BELLS OF SWEETNESS
3. BURN ALL THE FLAGS
4. JANE WYMAN
5. ROME IN THE RAIN
6. ATLANTIC CLAIRE
7. IN FREUDIAN UNDERWEAR
8. DIAMONDS FALL
9. SLEEPER
10. THE WORLD HAS BEEN UNFAITHFUL
11. ANNIE FLIES THE LOVE-BOMBER
12. DEEP IN VELVET
13. VALERIAN
14. EUPHORIA
15. FINE ART IN SILVER
16. ALBERT IS A HEADBANGER
17. THIS IS MICHAEL
18. DIANA
—
19. LOVE ON SALE
20. I DEDICATE MY SOUL TO YOU
21. FEMME FATALE
22. SO WHAT
23. CHARLAMANE
24. CONTAINER LOVE
25. EUGENE
—
26. AND THEN SHE KISSED HER
27. KILL YOUR IDEALS
Support: Cox And The Riot
Setlist
1. LORD HAVE MERCY WITH THE 1-EYED
2. BELLS OF SWEETNESS
3. BURN ALL THE FLAGS
4. JANE WYMAN
5. ROME IN THE RAIN
6. ATLANTIC CLAIRE
7. IN FREUDIAN UNDERWEAR
8. DIAMONDS FALL
9. SLEEPER
10. THE WORLD HAS BEEN UNFAITHFUL
11. ANNIE FLIES THE LOVE-BOMBER
12. DEEP IN VELVET
13. VALERIAN
14. EUPHORIA
15. FINE ART IN SILVER
16. ALBERT IS A HEADBANGER
17. THIS IS MICHAEL
18. DIANA
—
19. LOVE ON SALE
20. I DEDICATE MY SOUL TO YOU
21. SO WHAT
22. CHARLAMANE
23. CONTAINER LOVE
24. EUGENE
—
25. AND THEN SHE KISSED HER
26. KILL YOUR IDEALS