Berlin, Berlin wir fahren nach Berlin!
Zum Abspielen des Videos benötigt ihr einen Multimedia-Player, welcher das Handy-Video-Format 3gp unterstützt wie QuickTime oder Nokia Multimedia Player.
Annie ist mittlerweile fester Programmpunkt, leider fehlte Rocshee in Berlin.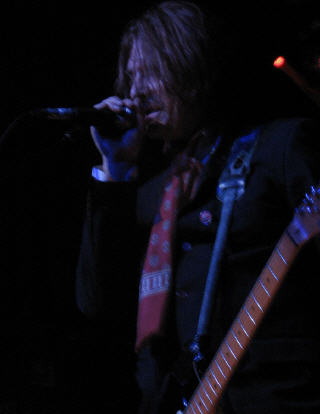 © Foto by Jörch
Weitere Fotos aus Berlin von Jörch gibt es hier

*sing on* "and then she kissed her…"

Im gut gefüllten Postbahnhof der Hauptstadt ging es mit der Tour weiter. Gespielt wurde die Standard-Setliste dieser Tour.
Die Band war in guter Stimmung und spielte sehr kraftvoll. Boa selbst gab sich jedoch eher wortkarg, was er auf die Größe der Stadt zurückführte.
Die Songs des neuen Albums kamen live perfekt rüber, insbesondere "Burn All The Flags", "And When The Magic Fades" sowie "Songs Of Life". Alles in allem war es ein super Konzert. Die Stimmung wurde leider von einen *** getrübt, der seinen Trinkbecher als Wurfgeschoss in Richtung Bühne missbrauchte. Boa stand jedoch darüber und führte das Konzert souverän zu Ende.
Setlist:
Annie Files The Lovebomber
Decadence &Isolation
Albert Is A Headbanger
21 Years of Insomnia
Fine Art and Silver
And When The Magic Fades
Love On Sale
Skull
Have You Ever Been Afraid
Der Himmel
The Songs Of Life
I Dedicate My Soul To You
Femme Fatale
This Is Michael
2 White Moths And A Black Cat
Atlantic Claire
Burn All The Flags
Rome in the Rain
Bells of Sweetness
Intrigue & Romance
Container Love
And Then She Kissed Her
Kill Your Ideals